Constructing the Green Consumer: a Critical Discourse Analysis of Nestle's Press Releases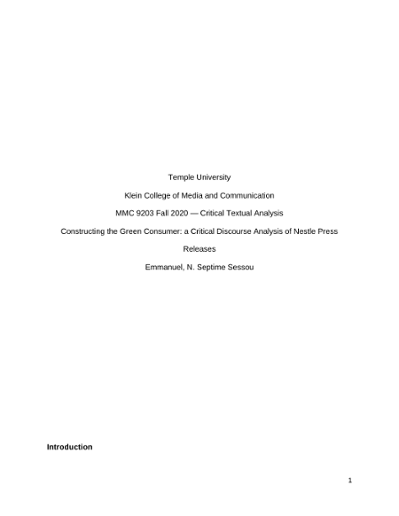 Name:
Sessou-ResearchProject-Fall202 ...
Size:
64.15Kb
Format:
Microsoft Word 2007
Department
Media and Communication
DOI
http://dx.doi.org/10.34944/dspace/7904
Abstract
This paper aims to explore how Nestle imagines and projects the ideal company that is environmentally friendly. A critical discourse analysis of Nestle's press releases available on the company's website illustrates three strategic movements that work to improve and maintain the company's image. I argue that through the power afforded by access to discourse (Van Dijk, 1993), Nestle imagines and articulates the ideal green multinational, and while doing so constructs the desired eco-friendly consumer.
Description
This research project was completed as part of the MC 9205 Content Analysis course.
ADA compliance
For Americans with Disabilities Act (ADA) accommodation, including help with reading this content, please contact scholarshare@temple.edu
Collections